Tracy talks to Vanessa Gould, director, producer and filmmaker.
Posted on July 6, 2012 by
tracy
in
Artists
,
Filmmakers
,
Inspiration
Follow your heart? 
Vanessa Gould: Director, producer and filmmaker- studied a mix of science, art, film and design, including architecture and astrophysics at Columbia University and music at the New England Conservatory… 
Science and art are not often seen, by some educational traditionalists, as mixing well – I love Vanessa Gould because she is one of those people who prove that not to be so.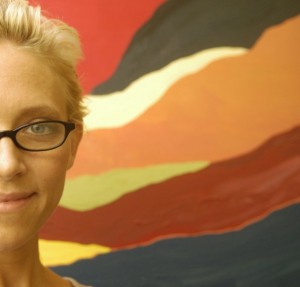 "You can sit in a room by yourself and try and figure it all or you can communicate with other people" 
I am so glad Vanessa did the latter by taking herself round the world to make one the most beautiful documentaries I have seen. 
The combination of questions asked, images captures, personalities discovered, the haunting music composed by Gil Talmi  and Vanessa's almost meditative voice over has turned a modest film by a modest film director in something of beauty. 
Well I think so, and I am not the only one. TED Conference curator Chris Anderson  said of the film: " …by the end, you find yourself convinced that the mystery of folding could be one of the universe's deep secrets", it has received many film festival awards and is the winner of a Peabody Award  and was shown as part of the 'Independent Lens' PBS series in the USA.   
The film has also become a wonderful tribute to paper artist Eric Joisel  Nov 15 1956 – Oct 10 2010
What is the film really about? In Vanessa's words – "The Heart of the film is about potential, the potential to see things differently…"
 I hope you enjoy my conversation with Vanessa Gould, recorded below. We talk about art, science and education, but really we talk about living a life asking questions, going on a creative journey in blind faith and trusting when something 'just' feels right? 
 Do you know that feeling?