A Conversation with Brigitte Martin online Gallery curator, jeweler and author
Posted on November 25, 2012 by
tracy
in
Artists
,
Craft
,
Inspiration
Where are you on your creative journey?
A day or two back, I sat beside a graphic designer editing some photographs, well actually a lot of photographs, beautifully taken, to fit a specific project. We have worked in this way for the past few years now. I have learnt through her patience, listening, discussing and explaining. In turn I have increased my knowledge and confidence in a media I knew little of a few years back. She assures me that I could probably do what we are doing together myself now. However, the speed at which she does it and the depth of knowledge she has to enable her to subtly tweak, change colour depths and composition, when my eye sees the need and cannot let rest easily until different variations are tried out, means that it is done with speed that only a professional with experience can achieve.  I know I am not there yet and the time spent with her saves me time on other work I know I am more expert at. I realise now, my little knowledge to ask the right questions also helps us both. I am very happy to pay for her time.
It also happens that she respects the fact that I have a natural skill to see when some of the image just looks right when treated in a certain way. We work well together… Perhaps we work and think differently in the same way?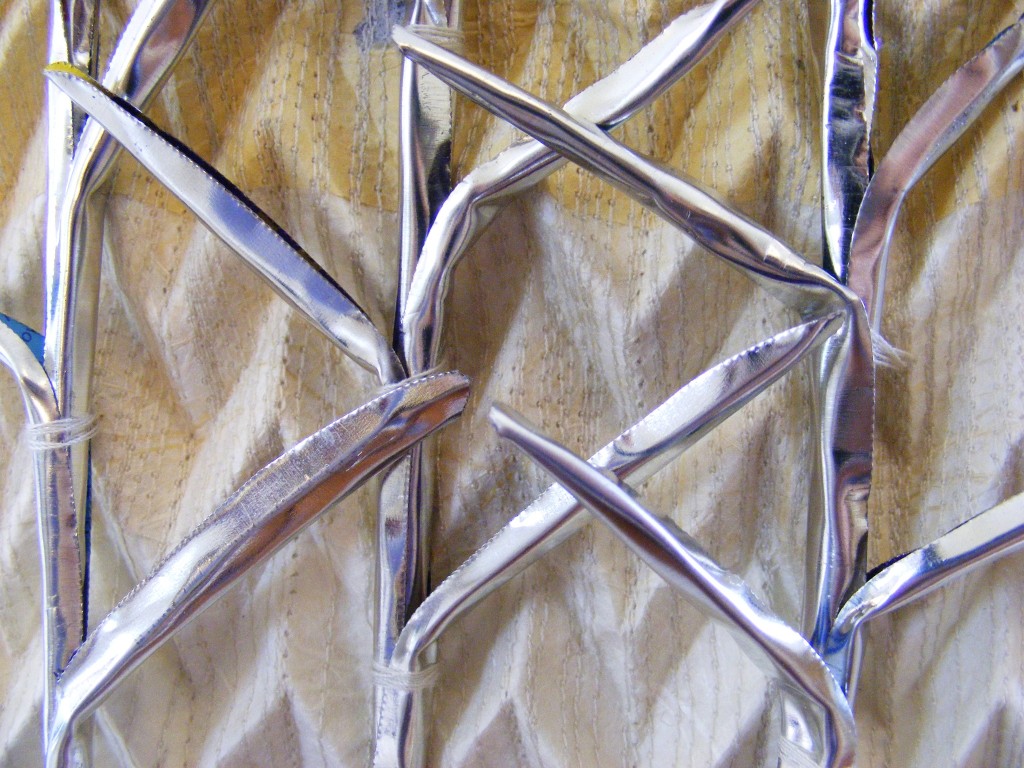 Artwork: Tracy McAlister Mackay, Photocredit: Heather Mchale
Is natural talent and years of often hard learnt skill a necessary requirement to achieve a great artistic outcome or can natural talent alone thrive without the need of skill and experience? Is there a right or wrong answer to this question or is it a fluid situation that only through doing, learning and experience can we really produce a shining result? I still wonder…
Earlier this week a member,

Julie Gibbons

from Australia, of our

Shed with the Chandelier facebook group

, a jeweler and silversmith, shared her newest blog on the subject ofskill in the age of DIY:
She has strong opinions on the subject. It is an emotive subject, as often speaking of such things to those who may be new to the journey of a creative life, may feel they are not as valued.
Another quick conversation at school this morning, with a science trained headmaster, gave an example of a top doctor, who will be giving a lecture here soon. He is greatly admired for his expertise here and abroad where he practices. My mind always jumps to the connections between art and science and I thought, "I don't think anyone would question whether it is better for a surgeon to have a passion and ignore his need for skill." I expect none of us who have gone under the knife hope for anything less – hopefully a hell of a lot of skill and experience as well as passion and enthusiasm is used to do the job to the best of his ability. I wonder; does it sometimes appear different in the arts? Some perceive the skill and hours of doing are less important. I wonder why? Does the work that can heal and rejuvenate our mind's and soul have less value than the work which helps rejuvenate our bodies?
In the use of skill or lack of it in the arts, I am not talking here about modern art as opposed to classical art, where often many will look at contemporary art and easily dismiss its value because they may perceive there is no skill behind it. It may not be familiar to them, they may not like it or understand, everyone has a right to there own opinion, and therefore maybe it would be perceived as a lacking of skill and therefore in their eyes has no value. I don't believe this to be the case, how can I?  I am a product of two schools of art, which spanned the two. Coming from a tradition of traditional techniques to the height of conceptualism and personally to me they are just different forms of expressions and yet I have thrived with the knowledge of both.
Art, science, craft, design, music, and technology – is it skill or what is now commonly called; the X-factor, that is most important in the act of creating something from ourselves or is it a bit of both?
Could it be that we are on a fluid journey of learning that we can all choose to go on if we wish, and see where it takes us and maybe we would even surprise ourselves if we "reached higher", pushed a little further.
Where is she going with this I hear you ask?
Brigitte Martin sitting in Pharaoh's Chair. Found chair, fabric, and bottle caps by Mr. Imagination (b. Gregory Warmack), 2003. Permanent Collection, Society for Contemporary Craft, Pittsburgh, PA. Photo: ©Nerds behind the Lens, 2011
I had planned to share the following conversation with Brigitte Martin for many months now and in the re-listening of it this week, and with the events that interrupted my flow of work, good and not so great, by the end of the week it surprised me how relevant the words shared by Brigitte Martin are to me right now.
All of these possibly synchronistic conversations I have had this week were brought about by a need to focus and a bit of hard graft, to complete some collaborative projects to the best of my ability and the abilities of those involved. Part of my own creative journey, I wonder
Listen now to a new "Conversation in the Shed with the Chandelier" 
Brigitte Martin; Gallery curator, online curator of

Crafthaus

 , on board of directors of

SNAG

 –  Society of North American Goldsmiths and a  member of the

American Craft Council

. With a very definite opinion on the subject she is serious, direct but as your will hear behind it all is a lot of humor and love.  She really cares about her journey and ours also. Check out Brigittes 

new book

too.
The Shed with the Chandelier; where passion, mutual respect, and enthusiasm, at whatever stage of our creative journey, is welcomed and celebrated.
Where are you on your creative journey? Please share you thoughts below: