You never know where your childhood love will take you.
Posted on December 3, 2012 by
tracy
in
Artists
,
Inspiration

photo credit: Mary Anglberger
As a teenager, my mother asked the local potter if I could come down on a Saturday morning and "work" in the pottery. Those mornings were spent in the two roomed building of the woman artist's pottery studio. She would throw the pots that in turn would store her fathers heather honey, she painted on old roof slates and created a variety of other pottery objects… there were to become memories of a time where I was just me, no questions asked. I would brush the floor, learn to stamp the clay labels for the pots, make tea and serve passing customers, while Rosie worked.
But my memories are more of the warmth I felt being allowed into a family workplace. The times I sat for Rosie as she painted my portrait on slate and the feeling of the cold clay in my hands.   Sitting at the wheel, when there might have been a spare moment at the end of the morning, to try to make a very basic pot.
 Contentment for me as a teenage girl and the visits from her sister  Sue Jane, then studying at art school, would bring into the garden the wonder of a bigger artistic world. I am not sure I was conscious of that at the time. I remember Sue building a brick kiln in the garden possibly one summer, I don't remember seeing what she made, I just felt it was big! I think boyfriends took over the Saturday mornings eventually, well partly.
 Those were the years when I didn't attend art class at school, I had never felt quite good enough there, and the art teacher recognised others talents, not mine: the scale he liked to work in was minute and that wasn't me. I now see Rosie's pottery and our home life was my unconscious art class, it just seeped in, in a very natural understated way and I was the sponge soaking it up. I observed really, and patiently waited to get a little go with the clay myself and I earned a little cash too. My mother obviously recognised the need.
Later in school the art teachers changed, a boyfriend – the potential distraction, was doing art and was working on his portfolio for art school at lunchtime. So I went and hung out and picked up a pencil and did some drawing too. A now different art teacher saw me drawing portraits of other people's boyfriends and friends as they waited with us all as we worked. The art teacher showed another teacher and they encouraged me to take the exam, I worked in my lunch hours and in any spare moment I could.
The next year, my final year of school and a new boyfriend, I was focused solely on trying to get the exams I required to get me into art school and more importantly the portfolio of work I needed. I worked every spare minute I could, asking to get off classes that seemed no longer the priority, much to the displeasure of my clarinet teacher and to the resignation of my Maths teacher and others…(the Maths teacher was pretty strict, I must have been determined to skip his class or perhaps he also too recognised the need…) I drew portraits, made a clay 3-d  head of a friend, experiment with printmaking and just did my own thing under the watchful, sometime critical eye, of my final art teacher, his encouragement and arguments fuelled my determination.
My application for the Art school of my choice was accepted and the following September I took my place. I have not looked back really.
But this weekend I had a moment to reflect. I stood on a Saturday morning in the home of a cerimicist Constantinos Constantinides where his studio is part of his home, with 3 women I had never met before. To just "play" with clay. I looked forward to the opportunity and a relaxing lunch prepared by someone else, afterwards. New people to meet, using a material I have not touched for many years.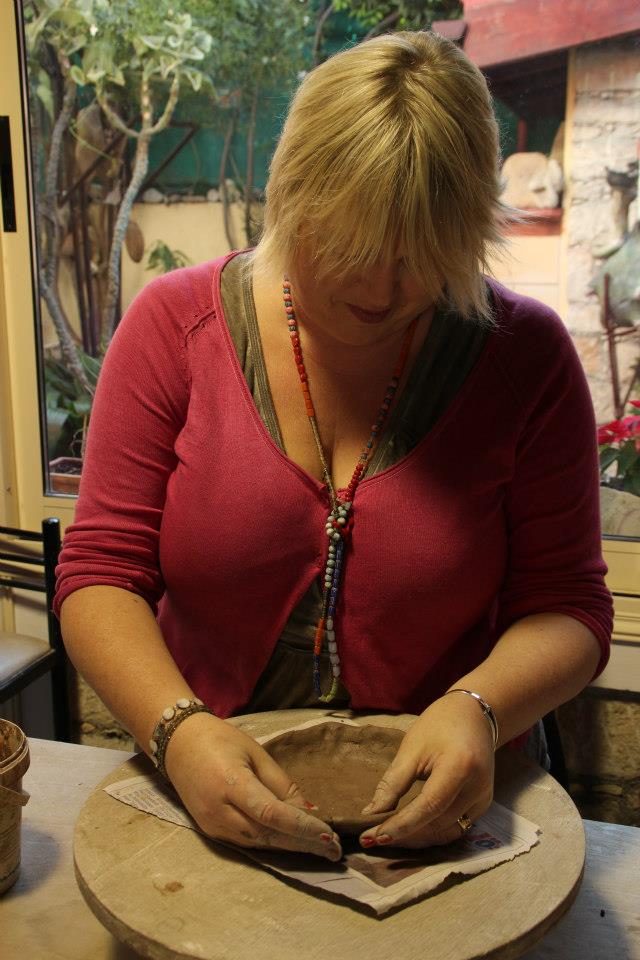 photo credit: Mary Anglberger
The photos, taken by the organiser Mary, were shared with my friends and one commented on my "obvious state of flow". Others have commented before, I now recognise my focus is intense when I am absorbed by artwork and the like, but I wasn't so aware this weekend.
Flow: a term often experienced and yet many are unaware of it… "A mental state of operation in which a person performing an activity is fully immersed in a feeling of energized focus, full involvement and enjoyment in the process of the activity. In essence , flow is characterized by complete absorption in what one does." so says Wikipedia!… but more importantly Mihaly Csikszentmihalyi the pioneer of the notion of 'flow'.  In other words, possibly "being in the moment?"
Now to be perfectly honest the morning wasn't quite like that, the master was dealing with varying abilities, and his own need to teach technique as a solid foundation to build even the most "basic" of bowls was not perhaps clearly understood due to the varying degrees of expectation on the part of the students. He, by now takes for granted, the need for good technique to allow for the unpredictability of the clay conditions in the making and firing of the pots.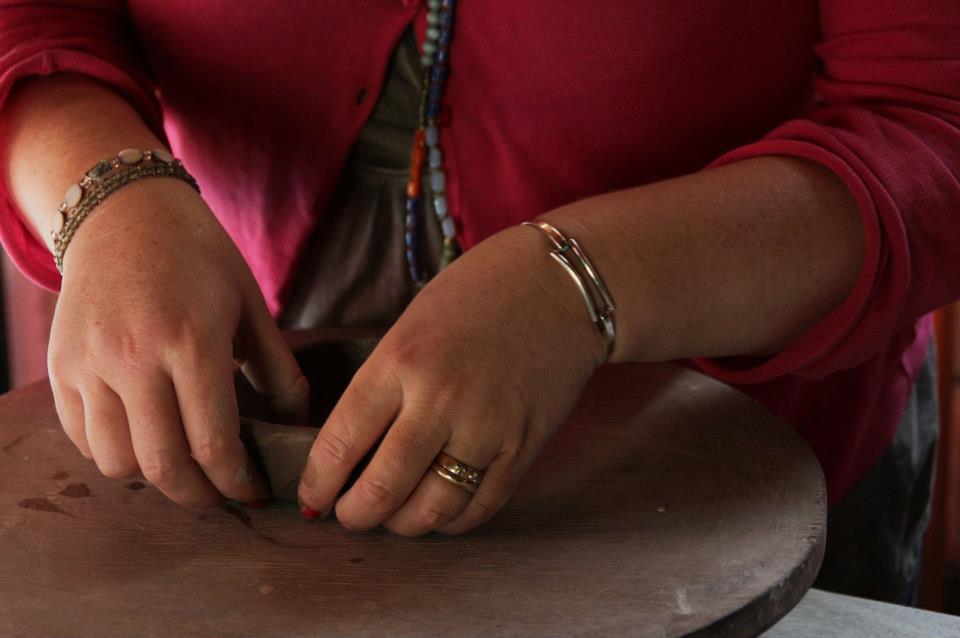 photo credit: Mary Anglberger
The little thumb pressed bowls developed with the morning.
My focus was: I want to enjoy the process, listen to this guy, he knows a lot about technique and I don't, he has years of experience and if I just watch, listen and put into practice perhaps I might come away with a little new knowledge and experience, and by 'doing', discover something new in the process. My need: to just 'be' for a morning and  feed myself, creatively, in a different inspiring environment.

photo credit: Mary Anglberger
I love the photos Mary took – the light is beautiful. Her passion she told me of, amongst our moments of trying to do the master will, is photography. The passion, which I think, comes out in her photographs.

                 

photography:with kind permission from Mary Anglberger
Having organised the occasion, her mind was not only on making a bowl, taking photos to promote the next event, but the preparing of hors d'oeuvres to be served later as a cocktail party preceding a concert pianists performance…
Mary masterminds dinner events in her home. She invites inspiring speakers, introducing new people to new people in an often transient community and serving amazing food to boot … She is following her passion, it seems to me… preparing food, creating environments for people to meet and feeding her own creativity in turn and coming out with some great photos to top it all.
As adult life can be unbelievably full of what we wish for, but also full of the stuff that just has to happen to keep it all going, we all crave for that creative freedom sometimes even when you are living it!
How I love to absorb the experience and talents developed in others. Their years spent practiced is a store of knowledge and information, learnt in no other way than the act of 'doing'. I love to soak up this inspired learning to then put into practice in my own way.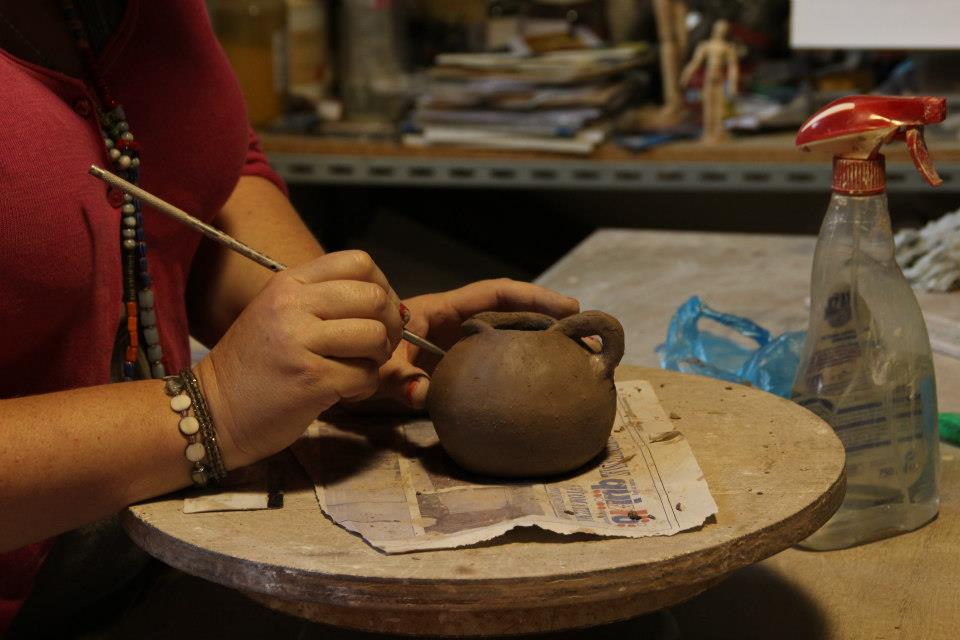 Photo credit: Mary Anglberger
Ok, am I about to go and buy a potter's wheel and turn it into a lifetime's business? Is my focus solely on that right now ? Possibly no. But what I do know is; that  soaked up experienced seems never to leave you and can be picked up at a moments notice if you have the will and focus. And benefitting from learning under the guidance of those who have walked the walk, will hopefully give increased confidence to walk our own walk.
 I loved 'playing' with clay this past weekend, who knows where it will continue to weave its way through my life but I have been reminded that flow is essential to living… "Performing an activity, fully immersed in a feeling of energized focus" is definitely a necessity I cannot live without.
So today I went back to my Shed with the Chandelier, to focus with refreshed eyes and thankful heart for the shared experiences with inspiring individuals, from my past and now in the present. As ever determined to move forward in my artist's life.
What do you do to experience 'flow' in your life?